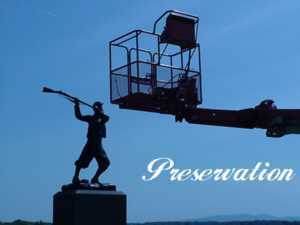 Fending off encroaching development...




RECENT ARTICLES

From: CHANTILLY TIMES, February 3, 2005. "Historic District Group Looks for Clear Direction"
Article by: Matthew Perrone
"The meeting ... is the third for the Centreville Historic District Work Group, a body of about 40 citizens, including Historic District property owners, Civil War buffs, preservationists and neighbors."
Please click HERE to read the article.

GENERAL & BACKGBROUND INFORMATION, 2001-2002

CENTREVILLE HISTORIC DISTRICT: "The Village at Mt. Gilead" Development

Where is it?
Corner of Mount Gilead Road and Wharton Lane, Centreville, VA.
What's going on?
Developer, Stanley-Martin Homebuilding, LLC has applied for rezoning based on a proposed subdivision that encompasses a portion (2.057 acres) of the Centreville Historic District.
The development will directly impact historic earthworks (that were part of the main defenses that protected Centreville and Manassas Junction) and other portions of Historic District.
Who's involved?
BRCWRT members, President John McAnaw, Mary Ahrens, Historians Ed Bearss and Brian Pohanka, Fairfax Board of Supervisors, the developer among many others.
Preservation Status:
Before the Board of Supervisors. NEW MEETING DATE: 18 MARCH, 2002 AT 5:00 PM
THE BOARD WILL VOTE ON THE DEVELOPMENT AT THIS MEETING
(This meeting has been deferred from the February 25th date to give everyone an opportunity to review the Phase II report, which was issued on February 21st.)
See the "Communicator's Corner" link on the Homepage for names/addresses of representatives.