Sign up for the Bristoe Campaign Tour - 29 September 2018



Click on Map for full size

Next Meeting:
9 August 2018 7:00 PM

Topic:
The Kentucky Campaign August to November 1862

Speaker: Chris Kolakowski

The Bull Run Civil War Round Table joins the family and friends of John P. McAnaw in mourning his passing on July 7, 2018. A highly-decorated U.S. Army (retired) and Vietnam War Veteran, community leader, and past BRCWRT vice-president (2003) and president (1997/8, 2001/2, and 2004/8), John was a tremendous friend, leader and mentor for so many. A dedicated Civil War historian and preservationist, over the years John organized and led 45 BRCWRT tours of Civil War sites and played a primary and significant role in documenting and preserving multiple Civil War sites throughout Fairfax and Prince William Counties.
John's Obituary (pdf)
A life well-lived; he will be greatly missed – Rest in Peace John McAnaw.
~~~~~~~~~~~~~~~~
A Funeral Mass was held Friday, 13 June at 1:00 pm at Holy Spirit Catholic Church (5121 Woodland Way, Annandale). The service included a bagpiper before and after the mass - no wake or visitation. John will be interred at Arlington National Cemetery at a later date - to be determined.
New Bull Run Civil War Round Table home page
BRCWRT Activities

Meeting Times & Location



"The Stone Wall" Newsletter Archives
Instructions for Advertisers

Membership Application (JOIN!)

College Scholarship Information
Picture Gallery
Audio Pod-casts
C-SPAN Civil War History URLs

Preservation Information
Contact Officials
25th Anniversary History Appendices

Policies & Positions

Of General Interest
Civil War Links
Civil War 1/2 Day Trips
Civil War Monuments of Washington
Other Round Tables & Support Organizations



Chronology of the Civil War in Fairfax County
By
Edward T. Wenzel - Ross Netherton Prize awardee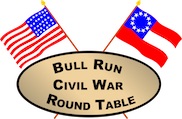 2011 Round Table of the Year -- Civil War Trust
Established on 9 May of 1991, The Bull Run Civil War Round Table was founded to bring together those who wish to expand and share their knowledge of the Civil War. We accomplish this goal in a number of ways: through lectures, research, field trips and in active participation in the preservation of Civil War sites. By regularly presenting knowledgeable, respected Civil War historians and scholars, writers and lecturers, it is the intent of the BRCWRT to honor the memory of those who gave "the last full measure".
The BRCWRT is a non-profit 501(c)(3) organization.
BYLAWS of the Bull Run Civil War Round Table