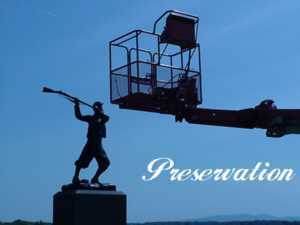 "The enemy is there and I shall strike him"
(Robert E. Lee, July, 1863)
SITE MAP
BRISTOE
BRISTOE STATION STUDY WEBSITE

Here is the address for the Bristoe Station Study Website created by Hal Sharpe for keeping tabs on the work schedule, needs, & progress for the 120-day study. To link to the website, click HERE

ARTICLES

October, 2003
From Civil War News: "Bristoe Graves"
"The graves are being sought on land that is due to be disturbed for housing development after Nov. 11."

September, 2003
From Civil War News: "Preservation Trust Needs $40K for Bristoe Station"
"The Civil War Preservation Trust has put out a fund-raising appeal to its members to help purchase 7 acres at Bristoe Station Battlefield. Board Member, Ed Bearss, former chief historian for the National Park Service, called the two parcels 'the most important ground on that battlefield'".

August, 2003
From The Washington Post: "Seeking to Recover Forgotten Soldiers"
"Twenty men and women gathered at the farm in Bristow yesterday,... trudging through thick weeds and scouting under the tall oaks. They were hunting for the lost graves of forgotten Confederate soldiers who died there in the Civil War."

December, 2002
From "Civil War News"
"Funds Needed for Bristoe Grave Search"

May, 2002
From "Civil War News"
"The Prince William county supervisors on March 19 unanimously approved a 341-acre project on the Bristoe Station battlefield south of Manassas that sets aside 127 acres as a permanent battlefield park. The other 214 acres will comprise "New Bristow Village," 520 homes and a commercial area designed to resemble a 19th-century village."

March, 2002
From the Free-Lance Star
"Never are both developers and preservationists happy when historic land is rezoned for houses and businesses.
But there's a first time for everything.
The Prince William County Board of Supervisors voted unanimously this week to rezone a 341-acre tract south of Manassas near the intersection of State Route 28 and Bristow Road."

February 2002
From the Washington Post
February 10, 2002. "Commission Rejects Plan to Develop Historic Site"


ARTICLES ABOUT THE BATTLE OF BRISTOE STATION

Park Service
From Fredericksburg & Spotsylvania Military Park: "Bristoe Station, October 14, 1863"
"It was an 'ill-judged attack,' a 'rash enterprise,' as 'gross blunder.'
Such were the terms used by participants brigades dashed to pieces against
a well-protected Federal corps. It was the fall of 1863..."

AP Hill's Report
From the Official Records, AP Hill's Report on Bristoe Station
"COLONEL: I have the honor to state that on the morning of the 14th instant I left my camp, 1 mile distant from Warrenton, on the Amissville turnpike, at 5 a.m., and in obedience to orders from the general commanding took the Warrenton and Alexandria turnpike until reaching Broad Run Church, then took the road by Greenwich and on to Bristoe Station, the division of Major-General Anderson leading."



OTHER DOCUMENTS & INFORMATION

Jim Burgess
Memo from Jim Burgess: "Unmarked Graves Complicate Deal to Save Part of
Bristoe Station Battlefield"

2001-2002: Early Information BRISTOE STATION BATTLEFIELD: REZONING REQUEST BY CENTEX, INC.

Where is it?
Bristoe Station Battlefield, Rte. 28 & Bristow Road
What's going on?
CENTEX Homes has applied for Rezoning (App #REZPLN2001-00157) in order to build "New Bristoe Village"
Who's involved?
Jim Burgess of Manassas Battlefield, BRCWRT President John McAnaw
Next Hearing: 19 March, 2002, 7:30 PM (1st Agenda Item)
Location of Hearing: McCoart Administration Building, Prince William County Board Chambers. Off PW Parkway, Dale City.
For Directions, Call: 703.792.6830

The Latest News:

MARCH
19 March, 5:00 PM: Prince William County Board of Supervisors VOTES ON THE BRISTOE DEVELOPMENT

FEBRUARY
Prince William County Planning Commission denied application. Vote 5 to 3 to deny, citing traffic impact on Rte. 28.
CENTEX has offered to allow the BRCWRT to undertake an examination of the property to identify any problematic areas of the property. CENTEX does not currently hold title to the property.
ALSO:

Article: The Washington Post, Feb. 10, 2002. "Commission Rejects Plan to Develop Historic Site"
Click here to read the article. JANUARY, 2002
ALSO: Prince William County Planning Office Staff Report for New Bristoe Village Project: Click here to read the report.